Antique 1938 German Candy Container Ferdinand The Bull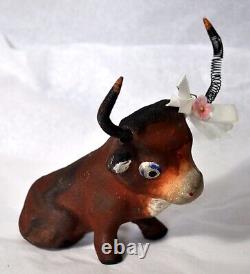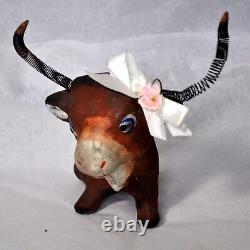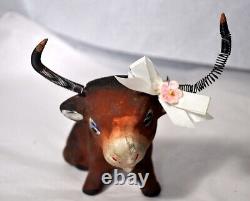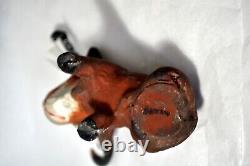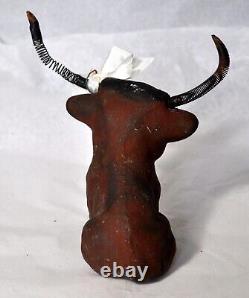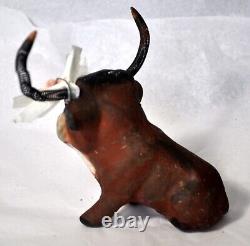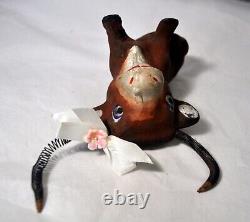 This little bull is a "Ferdinand" the bull. This was a story that was written in the US in 1936, about a bull that wasn't interested in being aggressive. He would go into the bull ring, and sit smelling flowers, instead of charging the matadors. This piece is marked Germany on the bottom, and he is called a candy container, although there is no way to open him.
I have seen lots of German figures like this, and they are called candy containers, as they were made with removeable plugs on the bottom. BUT I have also seen lots of composition figures like this, that don't have plugs - just a paper over the bottom, marked Germany. This is most often seen in the nativity sets. He is really adorable - a small little piece standing 5.5 inches tall with his horns, or 4 inches from feet to top of head. Because he is a Ferdinand, I thought he needed a flower.
So I added a ribbon and a flower that are from the 1930's, but not original to this piece. It is only tied on, so it can come right off, if you like. He is not really associated with a holiday, but would be great for Christmas OR Easter. His finish is slightly worn, with his paint starting to crackle and chip a bit. The white paint shows soil.
I have been an antiques dealer since 1985. I always said that if you have one, you have one. If you have two, you have two. BUT if you have three, you have a collection. I collected, for the most part "smalls".
I love all the vintage and antique pieces, especially those that I consider "how do those things survive". Well, sadly, no one in my family is interested in my collections.
If you like pieces like this, check back. It is a big job, as I seemed to keep..