ANTIQUE GERMANY Candy Container Easter Pull Toy Cart w Composition Boy Elf 9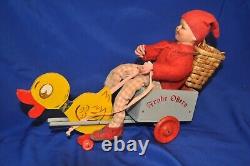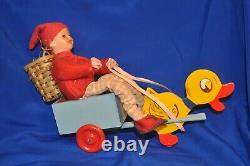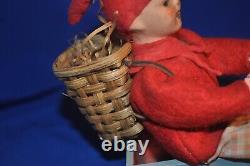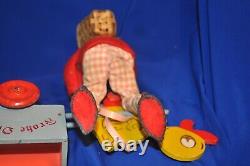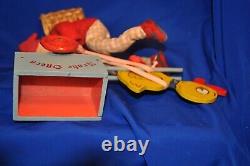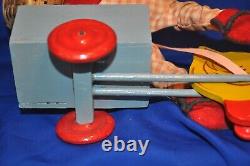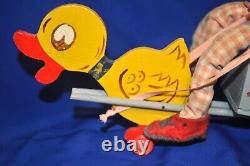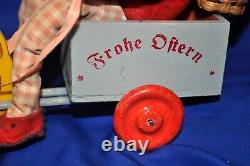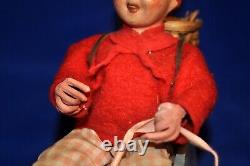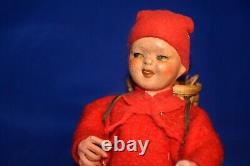 This listing is for an all original, antique German candy container for Easter. At least, it says Happy Easter in German. BUT, the little boy Elf looks like he is on leave from Santa's workshop, with his red boots, hat and jacket.
His pants are plaid, and may have originally been red, but now are pink. He has a little woven reed basket that is in good condition. These little baskets very often are broken over time. He even has his original wood shaving excelsior in the basket, which would have held jelly beans, or other tiny candies.
Th little cart has two wood wheels on the back, and one on the front. The wheels are really perfect! The little duck is hand painted, and the paint is very slightly faded. The boy's face is starting to show it's age, with a bit of crackling to the finish.
He is made from wire, with clothes over the wire. Oh my, what scary hands!
They are composition over wire and are intact, but kinda long and slightly creepy. Overall, the set is a bit creepy, like ALL the antique German pieces. This set comes from the Erzgebirge region of Germany, home to the finest toy and ornament makers in the world. The region, during WWII, was divided into East and West. Before and after, pieces are just marked Germany. This piece was made pre-WWII.